Factors Influencing NFL Season Ticket Prices
When it comes to NFL season tickets, prices can vary significantly. This variation is due to a number of factors that influence the cost. Understanding these elements can help you make an informed decision when purchasing tickets.
Team Popularity and Performance
One of the main factors is the popularity and performance of the team. Established franchises with a strong track record often have higher-priced tickets. For instance, season tickets for the Dallas Cowboys, a team with a rich history and large fan base, can range from $2,000 to $10,000 per seat per season. On the other hand, teams with less stellar performance records may have cheaper tickets.
Stadium Location and Capacity
Another factor is the location and capacity of the stadium. Stadiums in densely populated urban areas or prime locations generally have higher demand and, consequently, higher ticket prices. For example, Las Vegas Raiders fans pay a premium for home games, with the average ticket selling for $501.84 on the secondary market. This is nearly $300 more than the league average.
Seating Section and Amenities
The seating section and amenities offered also play a role in ticket pricing. Premium seating options, such as sideline club seats, come with additional perks like exclusive access to lounges, upscale food and beverage options, and preferred parking.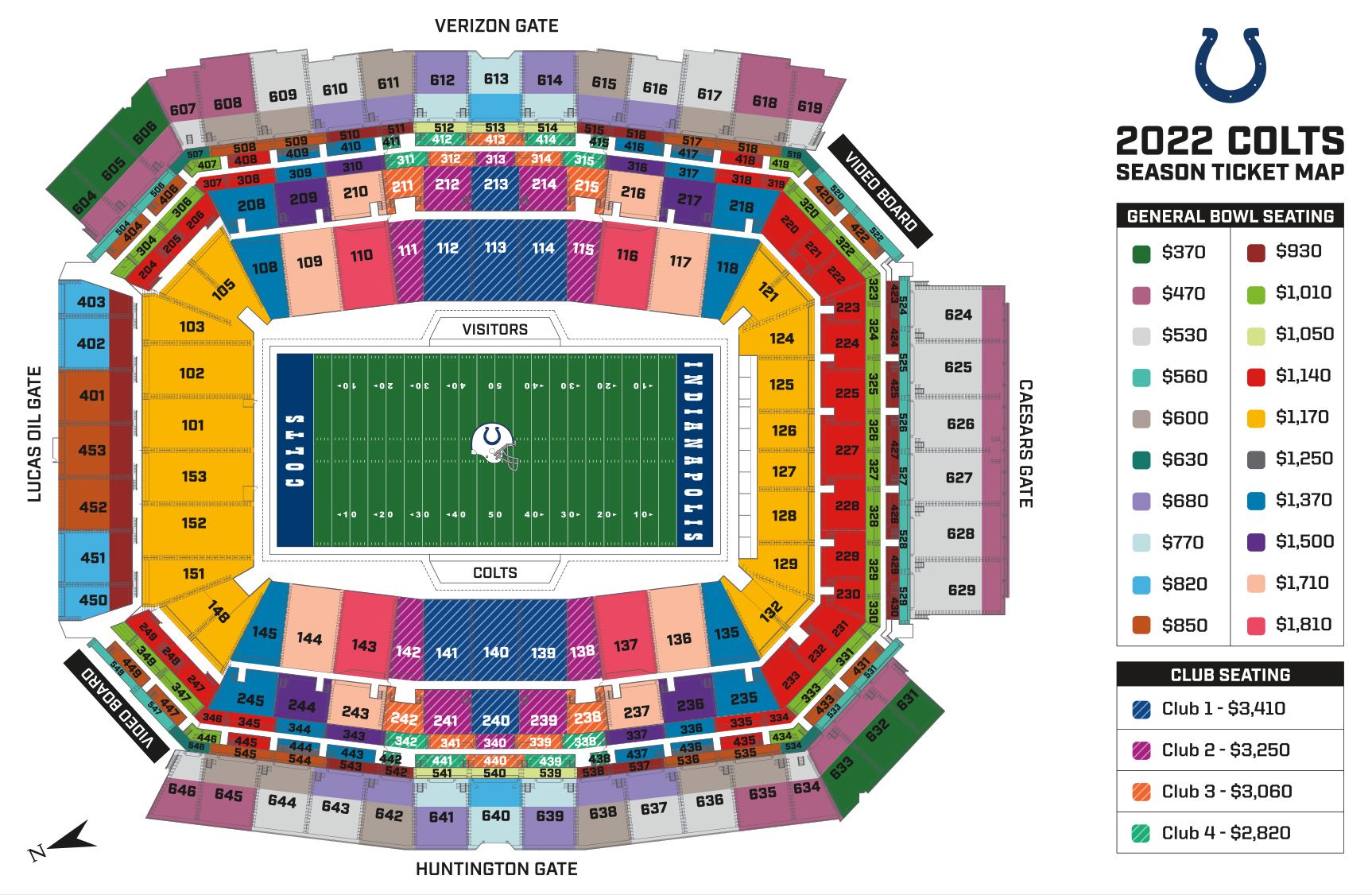 These seats can range between $1,500 and $3,500.
Timing of Ticket Sales
The timing of when NFL tickets go on sale can also influence the price. Generally, tickets become available for purchase shortly after the NFL releases the regular-season schedule in April. However, teams may have different strategies for selling tickets, including priority sales for season ticket holders or pre-sales for specific fan groups.
In conclusion, the cost of NFL season tickets is influenced by a variety of factors. By understanding these elements, you can make an informed decision when purchasing tickets. Whether you're a die-hard fan looking to attend every home game or a casual viewer interested in experiencing the thrill of live football, there's an NFL season ticket package that's right for you.
Remember, attending NFL games is a thrilling experience for football enthusiasts. Many fans choose to purchase season tickets to ensure they don't miss a single moment of the action. So, consider these factors, stay informed about ticket sale dates, and enjoy the excitement of your favorite team's games.
For more information on NFL season tickets, visit the official NFL website.
Price Range of NFL Season Tickets
Understanding the Price Spectrum
The cost of NFL season tickets can swing widely. On average, prices for the 2021 season hovered between $500 and $3,000 per seat. But, it's not a one-size-fits-all scenario. Prices can vary dramatically based on the team, stadium location, and even the performance of the team.
Team-Based Pricing
For instance, the Dallas Cowboys, a team with a rich history and a large fan base, command ticket prices ranging from $2,000 to $10,000 per seat per season. Compare this to the Los Angeles Chargers, where season tickets start at approximately $50 per game, going up to $1,000 per seat per season.
Location and Performance Matter
Location plays a role too. Las Vegas Raiders fans pay a premium for home games, with season tickets ranging from $1,400 to $7,500 per seat per season. This is due to the prime location of the stadium in a densely populated urban area.
Performance is another key factor. The Patriots, for instance, have the highest ticket prices among all NFL teams for the 2023-24 season. This is likely due to their consistent high performance and popularity.
Secondary Market Prices
Prices can also fluctuate in the secondary market. For example, the Eagles saw a 97% increase in secondary market prices since last season. On the other hand, the Buccaneers' ticket prices have significantly dropped.
Getting the Best Deal
So, how can you navigate this wide price range? One strategy is to look for lower-demand games, which usually have cheaper prices closer to game day. Season ticket prices are typically 10% to 20% below single-game face value prices, making them a cost-effective choice for die-hard fans.
Where to Buy
You can purchase tickets from official team websites or ticket offices. Resale platforms like Ticketmaster, SeatGeek, and TicketIQ also offer primary and secondary market tickets for NFL games. TicketIQ, in particular, provides fee-free NFL tickets and has a refund guarantee.
Final Thoughts
In essence, the cost of NFL season tickets is influenced by a variety of factors. By understanding these elements, you can make an informed decision when purchasing tickets. Whether you're a die-hard fan or a casual viewer, there's an NFL season ticket package that's right for you. So, stay informed, consider these factors, and enjoy the excitement of your favorite team's games.
NFL Season Ticket Sales Strategy
The NFL season ticket sales strategy is a fascinating blend of marketing, economics, and fan psychology. It's a game of supply and demand, with a dash of fan loyalty thrown in for good measure.
Variable Pricing: A Game Changer
One of the most interesting aspects of this strategy is the use of variable pricing. This is a pricing model where ticket prices fluctuate based on the attractiveness of each game. For instance, a game against a high-ranking team or a historic rival may command higher prices, while a midweek game against a lower-ranked team might be cheaper.
According to a study analyzing primary and resale ticket market data from each NFL regular season game from 2012 to 2015, the adoption of variable pricing increased primary market ticket sales by 1.59% per game. This is a significant boost, considering the millions of tickets sold each season.
Embracing the Highs and Lows
Interestingly, fans seem to embrace this pricing model. They are willing to pay more for high-demand games and appreciate the lower prices for less popular matches. This acceptance of variable pricing is likely due to the increased option value created by the resale market.
More Tiers, More Sales
Creating more game tiers in variable pricing also leads to higher sales. This allows teams to respond more effectively to changing demand across games. However, reports indicate that the implementation of variable pricing is somewhat limited, suggesting there's room for further optimization.
Presale Codes: A Fan's Best Friend
Another part of the NFL's ticket sales strategy is the use of presale codes. These codes, often provided by Ticketmaster, allow fans to register for tickets in advance and receive a code on the day of the ticket sale.
This strategy not only helps to generate buzz and excitement but also gives loyal fans a better chance of securing tickets to high-demand games. It's a win-win situation for both the NFL and the fans.
Take Advantage of Presales
So, how can you take advantage of these presales? Some artists offer presale access to fans through social media, email newsletters, and even credit card companies. Spotify and album pre-orders may also provide presale codes. However, not all events have presales or offers, so it's important to stay informed and be ready to act quickly when opportunities arise.
Final Play
In the end, the NFL's season ticket sales strategy is all about maximizing revenue while ensuring fans feel valued and engaged. Whether it's through variable pricing, presale codes, or other tactics, the NFL is constantly innovating to keep the game exciting both on and off the field.
As a fan, understanding these strategies can help you make the most of your NFL experience. So, stay informed, be proactive, and get ready to enjoy some fantastic football.
NFL Season Tickets: An Immersive Experience
Being a season ticket holder for the NFL is more than just having a guaranteed seat at every home game. It's about being part of a thrilling, live football atmosphere that's second to none. It's about the camaraderie, the shared passion, and the unforgettable moments that only live sports can offer.
Immerse Yourself in the Game
When you hold an NFL season ticket, you're not just a spectator; you're part of the game. You feel the rush of adrenaline as your team makes a crucial play. You share the highs and lows, the victories and defeats, with thousands of fellow fans. It's an immersive experience that goes beyond the screen, beyond the stats, and right into the heart of the action.
Exclusive Perks and Benefits
But the perks of being a season ticket holder extend beyond the stadium. As a member of The Membership Club, you get exclusive benefits from the NFL and its partners. This includes free access to NFL Game Pass, which offers live out-of-market preseason games, game replays, and more. Just enter the unique code you receive from your team at nfl.com/gamepass.
Stay Connected with NFL+ Premium
Season ticket holders also receive a complimentary 1-year subscription to NFL+ Premium. This service provides access to live regular season games on a phone or tablet, full and condensed game replays, and more.
You'll receive a unique access code via email to redeem your NFL+ Premium and NFL RedZone benefits.
Enjoy Discounts and Offers
As a season ticket holder, you can also enjoy discounts on your order at Hyperice.com, the Official Recovery Technology Partner of the NFL. Plus, you can get three free months on Platinum package subscriptions with SiriusXM.
Experience the Atmosphere
There's something special about being in the stadium on game day. The roar of the crowd, the anticipation in the air, the sense of unity among fans – it's an experience that can't be replicated. As a season ticket holder, you get to be part of this unique atmosphere at every home game.
Make the Most of Your Membership
To make the most of your season ticket membership, stay informed about the latest offers and benefits. Sign up for your team's email newsletters and follow them on social media. Be proactive in taking advantage of presales and other exclusive opportunities.
Being an NFL season ticket holder is about more than just watching football. It's about being part of a community, sharing in the excitement, and making memories that last a lifetime. So, immerse yourself in the game, enjoy the perks, and get ready for a thrilling season of NFL football.
Where to Buy NFL Season Tickets
If you're a die-hard NFL fan, you know the thrill of watching a game live. The energy, the camaraderie, the sheer excitement – it's an experience like no other. But how do you get your hands on those coveted NFL season tickets? Let's dive in.
Official Team Websites and Ticket Offices
Your first stop should be the official team websites. Here, you can find the most accurate and up-to-date information on ticket availability and prices. Most teams have dedicated sections for season tickets, complete with detailed seating charts and pricing options. You can also visit the team's ticket office, often located at the stadium, for personalized assistance.
Resale Platforms: A Viable Option
Sometimes, season tickets sell out fast. Don't lose heart. Resale platforms come to the rescue. Websites like StubHub and Vivid Seats offer a marketplace for fans to buy and sell NFL season tickets.
StubHub, the "NFL Authorized Ticket Resale Marketplace," is integrated with the primary ticketing systems of the NFL and its clubs.
This ensures a safe and reliable ticketing experience. Vivid Seats, on the other hand, lets you skip the waiting list and offers options for both single game tickets and full ticket packages.
Safe and Secure Ticketing
When buying tickets online, safety is paramount. That's why platforms like Ticketmaster offer SafeTix™, a secure ticketing system with refreshed barcodes. This allows for easy ticket management, transfers, and selling. Tickets can be added to a digital wallet and displayed on a mobile phone for entry into the stadium.
Ticketmaster's Fan-to-Fan Resale also ensures safe selling of tickets. Resale tickets are verified and reissued with new barcodes. This means you can buy with confidence, knowing your tickets are legitimate.
Final Thoughts
Purchasing NFL season tickets is a significant investment, but the rewards are immense. The thrill of the game, the shared passion, the unforgettable moments – it's all part of the package. So whether you're buying from the official team website, a ticket office, or a resale platform, remember to enjoy the process. After all, the journey to the stadium is just the beginning of your NFL adventure. Happy ticket hunting!